Client
Great Lakes Area Tribal Health Board
What They Do
Supporting the Health of Great Lakes Area Tribes
Project Type
Marketing
Graphic Design
COVID-19
Deliverables
Three billboards
From this, the Great Lakes Area Tribal Health Board hired Big Spirit LLC to design three billboards around a campaign promoting Covid-19 prevention in tribal communities while targeting youth and young families in the Great Lakes region.
Furthermore, it was essential to work with an indigenous firm in the Great Lakes region that had experience with multimedia design campaigns, was reliable, understood, and could deliver the client's vision, and understood the target audience and elements that would connect.
Process
Initial Meeting | Schedule time with the client to understand their needs and objectives.
Proposal | Created a customized proposal that maximizes the client's tight budget. The client had hired another company to produce the campaign, and they backed out at the last minute using up part of the budget.
Initial Sketches | Clarify all project elements and design initial imagery and content to be shared with the client.
Create Designs | Create three design layouts for final review and approval upon receiving client feedback on the initial concepts.
Final Deliverables | Upon approval, we worked with the client and their billboard media company to deliver final designs in the required formats.
Printing | Stay in contact with the client's media company to ensure we delivered what was required up to printing and distributing designs across the Great Lakes area.
Early Sketches | Mood Board Version I
Early Sketches | Mood Board Version II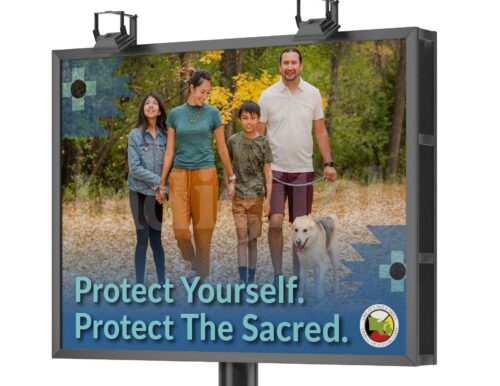 The Outcome
Three billboard designs were created that could be used on several media platforms including print and digital.
It was successful because the designs spoke to the target audience, brought awareness to the importance of health and COVID-19 prevention in tribal communities, and provided further brand awareness for the client.
Yes, everything was great. The board feedback was positive on all the boards and I am very happy with the end result. I know it was difficult working with the shortened timeframes and I appreciate everyone's work with this project."
Final Deliverables


P.S. Book a discovery call today to get your project in motion!